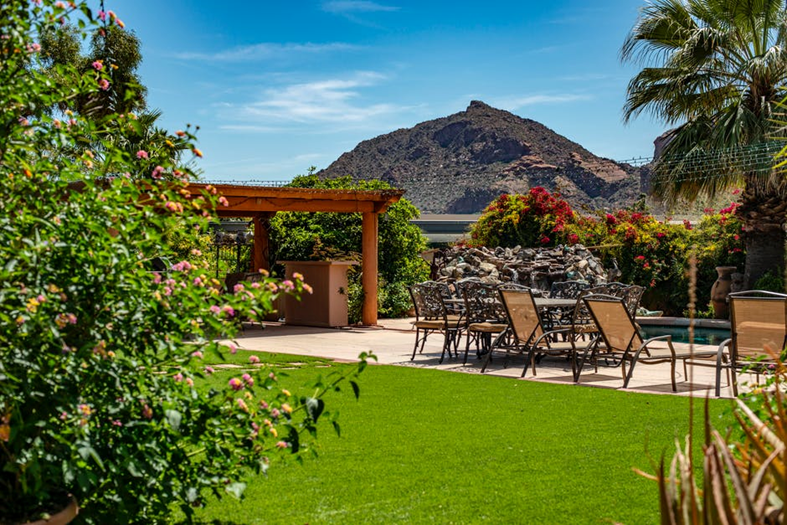 9 Backyard Renovation Tips for Your Next Project
In stressful times, we could all do with a little more exposure to the great outdoors. Research shows that just 25 minutes spent in a green space can improve your outlook on life by as much as 60%.
It's difficult to get out right now, but you don't need to head to a state park to reap these benefits. The solution's right on your doorstep.
Check out these backyard renovation tips to get you started creating a restful oasis for your family and friends.
1. Define Your Spaces
The first step towards cheap backyard landscaping ideas is to divide your yard up into spaces.
Draw a freehand map of your available space and allocate areas for cooking, dining, lounging, and play. Setting up these areas can be as simple as relocating garden furniture or as complex as building a garden shed to store outdoor toys and games.
Once you've got an idea of the space available for each aspect, you're in a better position to plan and implement your backyard makeover.
2. Create a Focal Point
Draw the eye to the back of your garden with a trellis or sculpture. A grouping of boulders also works well to create a point of interest.
You can get all of these from hardware stores or garden centers and they can take your backyard from so-so to swish almost immediately.
A trellis always looks better when it has a garden path leading to it. You should also consider growing a flowering vine on it to add color and life to your backyard.
3. Just Add Water
Installing a pond is one of the more difficult DIY backyard ideas but it's well worth the extra effort. It will attract birdlife to your garden and you can also add some koi fish to it for interest's sake.
If you're out of your depth building a pond, the best alternative is a pre-cast fountain. You'll find easy DIY fountains at your nearest garden center.
4. Fence it In
Fences are both practical and attractive features in any backyard. You can use them to define your garden zones or to keep pets out of your flower gardens.
Low picket fences make for attractive borders around flower beds too and can cut down on the amount of edge trimming you need to do. Alternative solutions for borders include using logs, or rocks to create definition.
5. Backyard Renovation Tips for Entertaining
Installing a swimming pool and outdoor kitchen are first prize when it comes to outdoor entertaining but they're not ideal if you're looking for a backyard makeover under $5,000.
Installing a patio's one of the best backyard ideas on a budget. All you need is an open space attached to your house and a couple of pavers. If you're worried about the weather, there is a huge range of patio covers available to provide shelter from the sun and rain.
After that, all you need is some patio furniture and a few container plants to create a wonderful space for outdoor relaxation.
6. DIY Landscaping
Landscaping adds texture, height, and interest to bland, flat spaces. Some of the easiest hacks for DIY landscaping include using container plants in your flower beds to add height.
Raised garden beds look great and can make gardening less of a back-breaking task. You can use interlocking retaining wall blocks against a fence to create this effect or build raised plant boxes out of brick or wood.
7. Painting for Effect
There's no rule to say all the exterior walls of your house should be the same color. Paint the exterior wall facing your backyard in a shade that mimics an element in the garden.
You could choose a particular shade of brown that matches your garden path, or opt for a gray color to suit sculptures and rock features. A coat of paint gives any part of your house a boost and it can instantly transform your backyard too.
8. A Free Backyard Makeover
Sometimes all it takes is a little elbow grease to uplift your backyard. Tackle all those overdue garden tasks for an instant transformation.
Weeding, mowing, edge-cutting, and pruning overgrown shrubs gives your yard a boost and will encourage healthy new plant growth. Rake up leaves and apply them to your garden beds to act as mulch and give the beds a uniform, cared-for appearance.
You can also ask a green-fingered neighbor if they have any plants to share and fill in any bare gaps with those.
Another long-term plan for a better backyard is to start a compost heap. All you need is a sunny spot out of sight of your outdoor relaxation areas.
You can get it started with all those weeds, trimmings, and lawn clippings and then keep adding biodegradable waste to the pile. Newspaper, eggshells, vegetable peels, and food waste make excellent compost.
9. Backyard Lighting
Lights can transform even the most dreary backyard into a wonderland when night falls. Consider sprinkling fairy lights among the trees or stringing them on your patio cover.
You can position accent lights to emphasize statement pieces and attractive plants. Small twinkling lights along your garden path are another appealing nighttime feature.
You can get most types of garden lights in inexpensive solar-powered versions nowadays, so all you do is stick them in the ground and let them do their thing.
Make Your Backyard Makeover a Priority
There's always so much to do when you first move into a new home. If you value your family's wellbeing, take these backyard renovation tips to heart to help ease the transition and provide a break from the chaos of a big move.
Keep browsing our blog for more tips on effortless relocation and making your house a home.